European English Speaking Aglow Conference in the Netherlands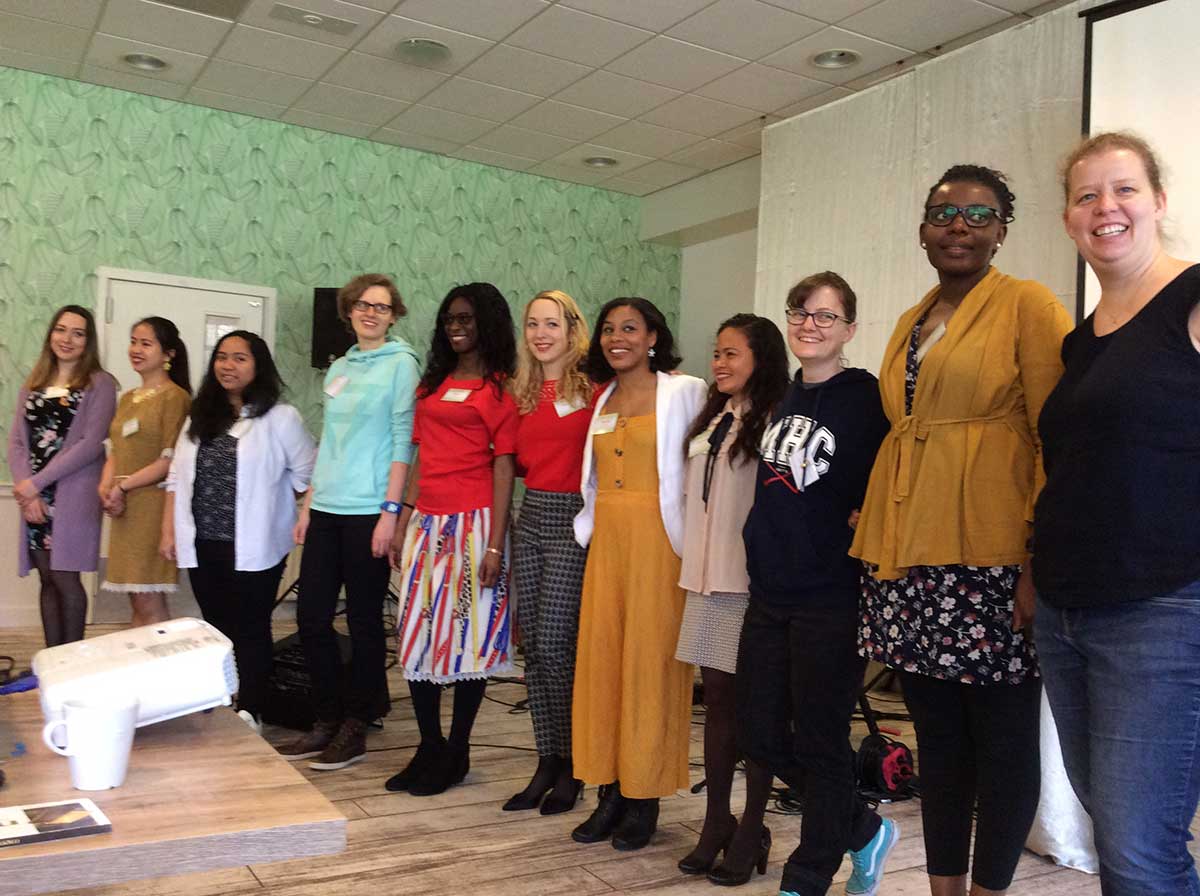 The theme for this year's spring European English Speaking Aglow Conference was on Naomi and Ruth, and the Generations.
The theme for this year's spring European English Speaking Aglow Conference was on Naomi and Ruth, and the Generations. Carolyn Jones Van Heezik, Director European English Aglow summarizes their conference sessions, "The first conference message, by Annette Ficker, was about how to relate to teenagers and youth.
Bianca Fuchs, who gave the second message, talked about relating to young(er) adults among other things. The third message, by Charlane Edwards-Maryns, was about honoring the generation above you, honoring your roots.
I spoke on Sunday morning from the Ruth and Naomi story, and generally the prophetic word about Ruth and Naomi the Lord has been giving to Aglow. It's wonderful to hear the impact this had on the young leaders present."
Testimony from Jeannette Membreve, Brussels Generations leader:
I love the heart candies moments and the quartet prayer. (Note: At the beginning of each session each lady was given a small jar of heart-shaped candy then asked to find someone whom they had not yet talked to, and give them a candy and a prayer. Then the other person would reciprocate. The 'quartet prayer' was a session where we got the ladies to sit in groups of four, and each take a turn in the 'hot seat', that is being the one the other three are being prayed for. This was not a time for prayer requests, but a time for prophetic prayers, receiving scriptures, pictures etc. for the person.) I find it really a good exercise for every prophetic gifting regardless of generation and a chance to pray for other ladies who may not otherwise have received prayer. It is in the heart of Generations Brussels to move into prophetic worship, prophetic intercession, and prophetic evangelism.

Personally, I received the words gleaning and owning the field before the conference and was reminded again of the encouragement we received and "an always reminder" by our President, that we should embrace and own the visions of Aglow so we can move and function with excellence. I believe that same topic about the field is also a confirmation of what and where the Lord is leading GP Brussels now.

It was a joy knowing new young generations attending Aglow/conference and that they would love to start attending. Another level of hope arising in me in our generation and really desiring that we could be an encouragement and a challenge for the other chapters to pursue and be aware of the young people they have and what they could become. Over all, it was again a very blessed weekend – a mixture of practical and spiritual teachings/preaching!
From the Brussels English Aglow Generation Group:
Experiencing being Ruth in the conference is a privilege! It was an overwhelming feeling to see and experience on how the older and younger generation working together as on how Ruth and Naomi worked in enlarging territories. As being Ruth, we have seen the value of owning the vision and not just gleaning from what others received and just going with the flow instead embracing it as our own and starting to act as God commanded us to do.

The two young speakers did a great job in delivering the message. They were on point and basic in our point of view maybe because we have an idea/experience/understanding in what is the generation today, but we appreciate it more when we hear the older generation's testimonies that they have gained lots of insights from it. From here, we wanted to challenge ourselves to be a game changer, to see the positive sides through others perspective.

On contrary with the point for young generation concerning "let them be them", we believe there should be a balance in applying this depending on the situation of the person. We cannot just agree and let them be them, if they are just relying on what they feel and believe but not aligning in the truth of His word. Pointing out what is wrong is vital in order for people to know.

Friendship! In every relationship it is important that friendship exist. We believe that Naomi and Ruth developed their friendship aside from just being in-laws. Even though we don't have mother-in-laws yet, we know it is easier to be ourselves in front of our friends. We have experienced how we have grown mature in our circle of friends. We provoke each other, sharpen each other to bring out the best in each one. We started within our team and it would be great that we set this as an example for the generations to come.

We are grateful and joyful to meet other young ladies from other chapters. We pray that this will be the start where we can stand together and bridge the gap in our generation and that we will be a good Naomi for the Ruth's that we will meet in our journey.
From the European English Director, Carolyn Jones-van Heezik:
As you will see from the photos, the Generations girls are pretty well integrated throughout the conference. But as we were working with the Ruth and Naomi story and dynamic we did some elements of singling out the age groups. We had a moment where some of the 'elders' were asked to come forward and pray a blessing on everyone and the photo of all of the under 35's at the front, facing the conference, was a moment when we asked them to pray a blessing on us. It was a very special moment.

For me the quartet prayer led to one of the most moving moments of the conference: an older lady dutifully came to that session but was very uncomfortable about praying out loud in a group. She was also uncomfortable about not being able to get over her fear and her inner conflict was painful to watch. We reassured her that it was okay to sit on her own and pray quietly, but she was still visibly upset. I was concerned about her, and wished we could have helped her more somehow. I wanted to win her trust and help her to get past her discomfort.

When it came time for the testimonies on Sunday morning, to my surprise, she came forward with two young women, sisters actually, from our chapter in Luxemburg, and one of them is the president of that chapter. They are both in their mid-to-late twenties. This older lady testified that they had met right after the quartet session and had discovered that they had something in common: they all come from Argentina. "I feel like I have known these girls all my life, and they have been such a comfort to me." She was beaming! God had brought the perfect people to her who were able to connect with her, and pray with her effortlessly. Only God can set something like that up! Across generations, continents, languages…He is amazing!!