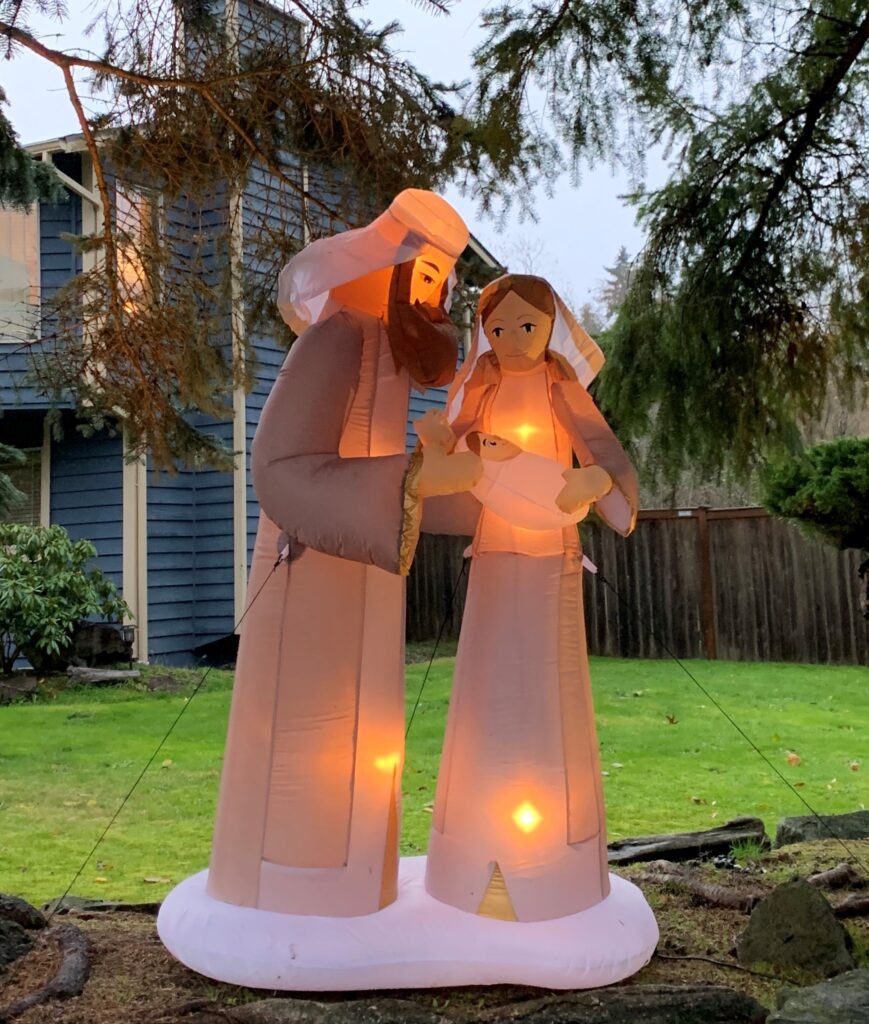 Behold, the virgin shall be with child, and bear a Son, and they shall call His name Immanuel, which is translated, 'God with us.' Matthew 1:23 

The last couple of months, I have found myself needing to chase away the 2020 blues. One evening as I walked and poured my heart out to the Lord, I came across a Nativity scene displayed in a neighborhood yard. It stood tall with spotlights on Joseph, Mary and baby Jesus. As I peered at the simple majesty of it all, I felt the comfort of the Lord wrap around me whispering, I am with you.
As children of God, we serve the One who always is, was and will be with us. Though things may be shaking, we walk with the unshakeable One. What a promise, what a hope we have in Jesus! God is with me, God is with you, God is with us.
Since that eventful evening, God has been speaking to me through Isaiah 9:6. I have been praying over the names and attributes of God given in that scripture.
Isaiah 9:6 "For unto us a Child is born, Unto us a Son is given; And the government will be upon His shoulder. And His name will be called Wonderful, Counselor, Mighty God, Everlasting Father, Prince of Peace."
With Us As Our Wonderful Counselor
John 14:16-17 "'I will ask the Father,' He said, 'and He will give you another Counselor to be with you forever…the Spirit of truth.'"
We need divine insight, wisdom, and truth. There is so much information being circulated and opinions being shouted. All that is happening can lead us to feel overwhelmed. A guest speaker at our church, Corey Russell asked in a sermon: What conversation are you going to live in and what counsel are you going to be in?
I have felt the Lord say, Quiet yourself and create a deeper habit of time with Me in the Word and prayer. Turn off all the noise through the media. He is calling us into a deeper secret place. I am so grateful for His counsel, tender whispers, and daily new mercies. When the words of man fail, God's Word never fails!
With Us As Our Mighty God
God is all-powerful and greater than anything that stands against us. He rules and reigns over the whole earth. The government is upon His shoulders. He is greater than any fear, sickness, disease, politics, division, strife, etc. He is greater than Covid19. He has reminded me so sweetly, I am bigger than anything you face.
With Us As Our Everlasting Father
Psalm 68:5 Father of the fatherless and protector of widows is God in his holy habitation.
This time of year, many grieve the loss of loved ones. I know the heartbreak, as a few of my friends suddenly lost their dads or husbands recently. I am grateful we have a Heavenly Father who soothes our pain; Who is always near and available to us.
The promise of God being a father to the fatherless brings me hope too. So many people have been isolated by the pandemic and are walking through difficult situations. No matter what we face, He is our Everlasting Father and Protector who is with us and for us.
With Us As Our Prince of Peace
Philippians 4:7 And the peace of God, which transcends all understanding, will guard your hearts and your minds in Christ Jesus.
With all the unknowns and contentiousness in the world, we can feel as if peace is elusive.
As one who has walked through seasons of anxiety, I have been praying that I would know God's abundance of peace. Aren't you grateful we can find peace in Him that goes beyond our understanding? He is the Ruler of our peace.
In closing, I encourage you to pray along with me that our understanding and experience of God's character would grow deeper this Christmas Season. He is Immanuel, God with us, our wonderful Counselor, mighty God, everlasting Father and Prince of Peace.
With Me
With Me as Counselor so wise
Never turned a deaf hear to my cries
Revealing mysteries as I abide
Held close, embraced in your side
With me so Mighty and strong
Nothing can stand against me long
You put all my enemies to flight
Strengthen me in the darkest night
With me as Eternal Father, eternal Friend
Provide all I need, never to beg or bend
Love and new mercies, You always send
Walk right beside to the very end
With me as the Prince of Peace
In abundance, lavish it and never cease
Peace that passes all my understanding
By Your still waters, forever standing
Wherever I go you've been there and there you will remain
Right beside me through the journey, the joys and the pain
Before me, behind me, beside me, no shadow of turning or change
Beauty for ashes, joy for mourning, the beautiful exchange
With me in the quiet, stillness, unknown
With me in the disappointment, questions, wanderings
With me in the sorrow, pain, joy
With me in the dreams, hopes and longings
With me in the night hours, sunrise
With me in the valleys, mountaintops
Alpha and Omega, with me from the beginning to the end