Jill Bixby – Israel Reflections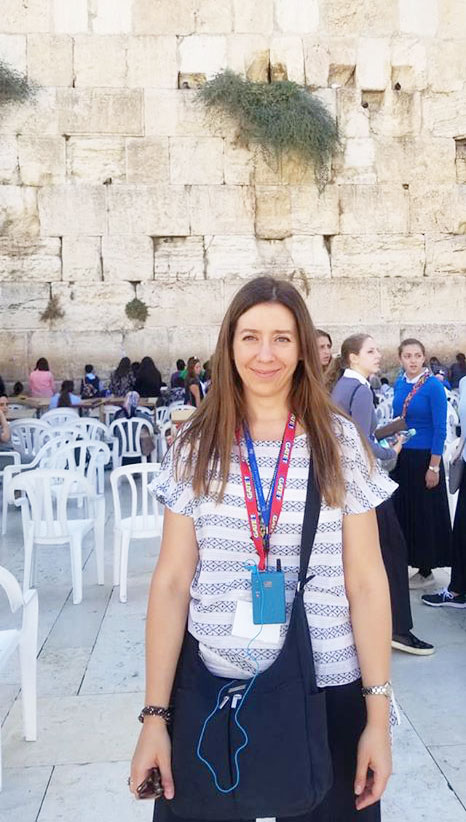 I am so blessed that I was able to go to the Aglow 2019 Convocation in Jerusalem and the following tour in Israel. This was actually my third visit to Israel, but my first with Aglow. I have wanted to experience it with Aglow for years, and knew that this "Right Time" Convocation was indeed the right time for me.
The biggest difference I noticed between this and my previous trips was the worship. From the Convocation in Jerusalem to the boat rides on the Galilee, we worshiped as we went about the land, and there is just something special about singing praises to the Lord right from Israel. We prayed as we went, as well. One of the most impactful opportunities for prayer was at the Lebanese border at Rosh Hanikra. We were able to put our hands through the gates and pray for Israel's neighbor to the north.
As people have been asking me about the trip, particularly the things that made the biggest impact on me, I've put together a list of thoughts I've been processing since I've been home.
Protection, Provision, Evidence of Prayer Covering, and Peace:

A few days before the trip, I thought I may have to cancel and not even go, because of health issues of an immediate family member. But God provided not only a good report from doctors, but gave me peace of mind to go and let Him handle things at home.
There were many snags with travel plans (airport runway being closed, for one!) that could have turned into disasters, and yet didn't. My flights were changed on me at the last minute, and then diverted. I ended up having to take a bus from one airport to another at one connection. But it worked out. Everyone in my group had their own challenges, but we all made it on time, and did so with cheer.
So many prayer warriors in Aglow have been praying for this trip over so many months, and it was evident. Things seemed to go smoothly, for the most part. Israel feels like a very safe country while there, and travelers are well taken care of. It is nothing like what it seems like from watching the news back home– the news points out unrest and disruption, but the tourist experience is peaceful and secure.

People:

Travelling with Aglow people is probably a unique experience. It is definitely a blessing to be among such joy-filled, like-minded people of God. The people I knew from home ended up being on a different bus and in different hotels than me, but it didn't matter. Everyone in Aglow is friendly and kind, and it's fun to meet and connect with new people. What if some of these new relationships were divine connections, orchestrated by God? Whether it was brief or in-passing, or more of a developing new friendship, I was blessed by every interaction I had.

Perspective & Purpose:

If you've ever been to Israel, you know that there is just something eye-opening and soul-awakening about being in the land. As a Christian, it's like there is a divine spark that lights up so many things inside you. Obviously, the pages of your Bible come alive, and the parts of the Word in you that you can recall become real in a new way. The land is both very foreign and so familiar at the same time, and it is just a strange feeling to reconcile in your mind. Your spirit gets it immediately, but it takes a while for your head to process. As a person who keeps up with news and current events, getting a first-hand look at the geography and the small scale of the country itself gives a lot of perspective and more understanding in that regard as well.
For me personally, there were many times during the trip that I felt like God was giving me my own dose of perspective and insight into the plans and purposes He has for me. Many Aglow women came up to me with prophetic statements (whether they knew it or not), and several times spontaneously asked if they could pray for me. Those were incredibly special moments.

Proof of my Passion:

I have loved Israel for most of my life, and in Aglow, not many people question that. But outside of Aglow, many people do. They ask things like "Why is Israel so important to you? Why do you believe God cares about it? Why do you travel there?" Before this trip, I got another round of these kind of questions, and I realized that I am not doing a good job of teaching those around me about the importance of Israel. Apparently, I have been taking for granted more than I should that people, especially Christians, understand why Israel is the apple of God's eye, and why as believers we should pray for and stand with Israel. Especially in light of the growing anti-Semitism around the world, it is more important than ever to take those opportunities to teach everyone around us the Biblical truths about Israel and God's covenant with them. It's time to speak out, and not just wait for others to bring it up. People may know we love Israel, but it's time to show them why. I, and I suspect many of us, need to be known as ones who love to teach about Israel, not just ones who love Israel.
Several years ago, I was fortunate enough to attend an Aglow seminar called Watchmen on the Wall for Israel (WOW for short). It is something I would recommend that everyone in Aglow should do, at least once, because it is so full of useful information regarding the topic of Israel. On this trip, one of the most special moments for me was standing on Mt. Scopus, overlooking Jerusalem, and taking an oath to pray for Israel as we (several hundred people who had attended a WOW) were being commissioned as a Watchman on the Wall for Israel. It was a simple little ceremony with a big spiritual impact. I believe in many ways, it encapsulates everything about the Aglow Israel experience, to me. It's not just about a tour. It's about a commitment to the land and the people of Israel.
I always encourage anyone who has a desire to travel to Israel to go. It is not something I could imagine anyone regretting doing, and as a Christian, it is something that would absolutely be meaningful. Even if you've gone before, consider going again, and with Aglow. You'll feel right at home among the Aglow people, and there will be many opportunities for God to touch your heart and bless you.