Natalie Huschka – Conference Reflections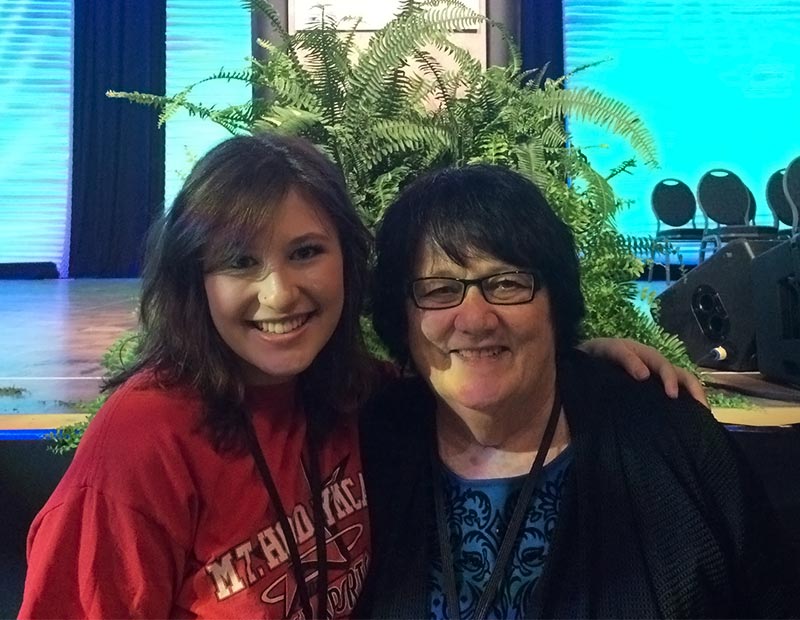 Natalie and RobinThe Aglow retreats and conferences have greatly impacted the life of Natalie Huschka, 18 year old granddaughter of Mid Columbia/WA South Area President, Jackie Bye of Oregon. Natalie writes, "I have been to many retreats, and a national and international conference. I have so many good memories that it is going to be hard to put it all into words. It is not just the wonderful experiences with God, but the experiences I have had with the people that attend."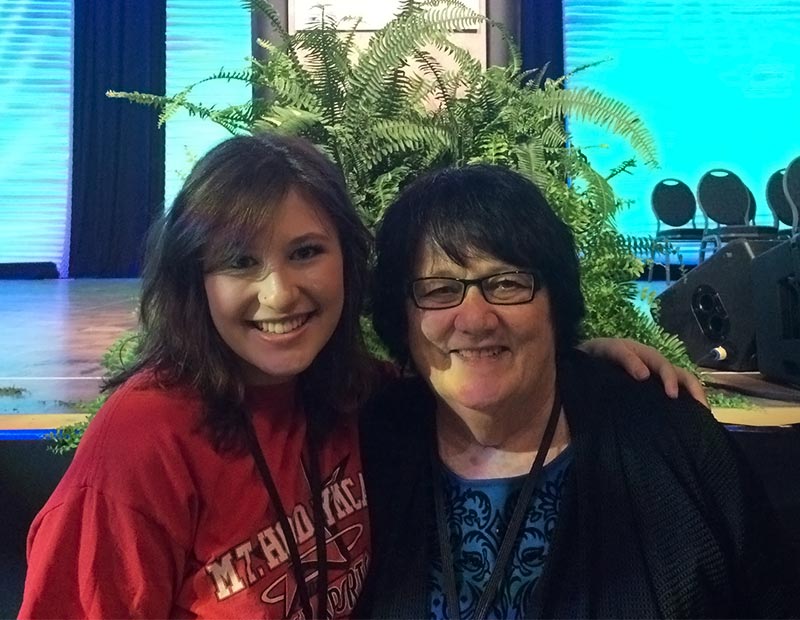 Natalie and RobinThe Aglow retreats and conferences have greatly impacted the life of Natalie Huschka, 18 year old granddaughter of Mid Columbia/WA South Area President, Jackie Bye of Oregon. Natalie writes, "I have been to many retreats, and a national and international conference. I have so many good memories that it is going to be hard to put it all into words. It is not just the wonderful experiences with God, but the experiences I have had with the people that attend."
2014 US Aglow National Conference
"I went to the 2014 National Conference with my mother and grandmother in New Mexico. Besides the excitement of traveling to a new state and beautiful hotel, I was beyond blessed to go to the conference. I was privileged to be a *Samuel intercessor for the amazing Robin Harrison, State Prayer Coordinator from Oregon. We went to the meetings and services back to back."
"People may think that having a relationship with God is just in church or when your eyes are closed. However the ladies at Aglow understand that God is your best friend, Father, and Counselor, who has the answer to anything we may need in everyday life. You can go in the hot tub with a large Frappuccino and chat up a storm with Him. You can explore a hotel and see everything that He put in people's minds to make. You can eat popcorn and laugh with your favorite people with Him. You can stand at a crosswalk teasing each other with Him. These Aglow ladies understand that, and we can all hang out together with God. We all have a puzzle piece of God, and if we are all hanging out with each other, then God will have all those puzzle pieces put together. It was really great for me to be able to be there and experience this with everyone, and it really affected me."
"I made many godly friends and did wonderful things, but the ones that stuck out the most were my highlights when God intervened. People blessed us with kindness and special attention wherever we were at restaurants, or the hotel, or even the airport. All I kept hearing was that we were taken care of, HE was taking care of us and, may I say, He did a pretty good job."
"Although everything was so awesome, my favorite moments were with God in the prayer room, or when we prayed before the sessions. Probably because it was just way too awesome to be in His Presence with that heavy, yet light weight on us while we prayed. The glory that was there was so strong that it was hard to remember what it was like without it. Things broke off of me that night. I began to dance with Him like I used to when no one else was in the room and before I had injuries. While I danced I knew with every slightest move that stuff was chipping away."
"In the prayer room it was the 3 – 6 AM time which I personally liked best, rather than in the day when I was lucid. It is easy to listen to God when you can't think straight. It keeps me from over thinking everything and putting dumb ideas into my head. Every time you are in His Presence it just keeps getting better and better. There were amazing words spoken that turned out to prophesy about the teaching that was for that next morning. It was about movements God was making over the Nation revealed and so much more. However, these kinds of things are hard to explain because it is a switch in your mind and heart that God makes, so you look at things in a new way."
Here are some of my notes:
"A storm is coming. The seas and earth are shifting. Seas warring, stirring up a new age, a new continent, storms arise, shifting, changing the nations. He is doing a new thing stirring up the 10 elements, stirring up a storm. The prayers are making a tornado whirlwind, shifting, changing everything, turning things around; switching who has the upper hand. His finger stirring the sea of prayers, His finger stirring in our hearts, in His people's hearts. The oceans roar and the earth trembles beneath Your feet. Make that known, Jesus. Make it known to Your enemies and those that have fallen short or just lost the Lord. That You will make known Whose feet the earth and sea tremble under. There was so much more that I didn't get to write down."
"There were so many breakthroughs in my heart and in the hearts around me over the weekend. It was more than I could explain or document."
2015 Global Conference
"I went with just my grandmother to the 2015 Global Aglow Conference in Indianapolis, and it was nothing less than the National Conference in 2014. I was blessed with first class on the airplane, which was awesome! The trip was very similar to the one in New Mexico, with everything working out just right. I had the wonderful pleasure of being Robin Harrison's Samuel again and everything that we did was almost like déjà vu with new experiences added."
"The prayer room was late, or should I say early in the morning. The theme was, 'Seeing the world through His eyes'. The entire time there was a 'resting in Him' that was very peaceful. At the end of our time in the prayer room we were all standing in a circle holding hands. As we were all standing there, everyone started to reenact opening the door to Heaven in the sky. While I was watching everything changed. There was not a door in the sky but on the floor, a circular door that fit the circle that we were making perfectly. Each of us stood on the door. The tint of the room changed to a yellow gold glow color. For me, suddenly the room we were all in was not there anymore, it was an endless room where I could not even see the walls. Everything was the yellowy gold glow and there were people everywhere, thousands of angels, and people cheering and clapping to every prayer that was prayed. Heaven opened, but Heaven wasn't in the sky, it was on earth. Heaven opened, the other realm, Heaven's realm."
"There were so many amazing moments for every minute but one of the greatest ones was during worship in a session time. I was dancing in the back as the worship leader, Klaus Kuehn, stated that his relationship with his son was not perfect, and he said his son wanted to sing a song with his ukulele. I danced in intercession for many things but when the ten year old son came up and started to play his ukulele my dance began to slow and then stopped and it was as if there was no need to dance anymore. I just stood in the back and listened as a sense of peace came over me as if to just swallow me up. When the session was over, I went to Robin and she instantly asked if I had heard anything. She told me that she heard a horrible sound that was so loud that she was going to leave the room until the young man played and the noise stopped and she felt the Heavens opened. If the worship leader had not opened up and confessed his parenting imperfections it might not have happened."
"The entire conference was completely awesome and so many wonderful things happened. Honestly most of it is just a blur of glorious bliss. Going to these conferences and being with everyone and God have been among the greatest experiences that I have ever had."
* The SAMUEL program is a Prayer Mentorship program that State Prayer Coordinators use. S.A.M.U.E.L. stands for "See it, Apply it, Model it, Under Excellent Leadership".