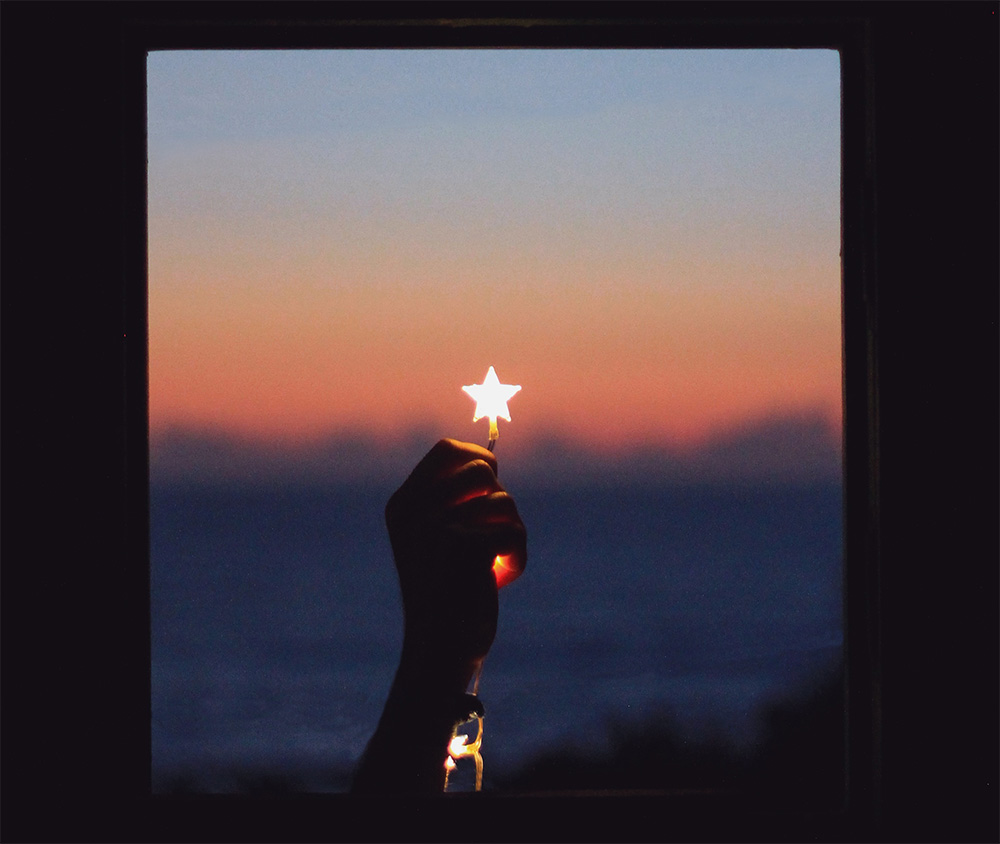 I love Christmas time and I think one of my favorite things about this time of year is the Christmas lights. With daylight savings ending in November, it gets dark so early and I miss the daylight hours. I live in what's known as rainy Seattle so it gets a bit dark and dreary. I get so excited for the first sighting of Christmas lights on homes as I am driving around. The lights and decorations bring cheer, joy, delight and a little sparkle.
Seattle is a big metropolitan city with skyscrapers, traffic, lots of people, mountains and water views. Skyscrapers and construction cranes decorate with Christmas lights and make the city shine. I love all the celebratory sights, sounds, surprises and the grandness of it all, but this year I felt the Holy Spirit through a simple symbol of the star.
My husband and I were on the busy interstate driving through Seattle and on top of an old, brick medical center was one simply lit star. This beautiful brick building could be lined and covered in lights, but no, it was just that little star. My husband said, "What a powerful statement!" And I agreed, "Yes, profound." We thought of the many in our city who are lost and in darkness that need the Light of the World.
I reflected on how the star was the symbol that led those waiting and longing for their Messiah to His birthplace. The Promised One who had been prophesied about hundreds of years before had come. He came to save mankind and was now Emmanuel, God with us. The Magi journeyed to worship Him, the one born King of the Jews. In Matthew 12:10-11 it says:
When they saw the star, they were overjoyed. On coming to the house, they saw the child with His mother Mary, and they bowed down and worshiped Him. Then they opened their treasures and presented Him with gifts of gold, frankincense and myrrh.
I too was overjoyed at seeing this star in Seattle. The Holy Spirit was encouraging my heart through this little, lit star. Would I, too, be overjoyed as I find Jesus at work in the middle of my circumstances that seem dark? Would I come worship and behold Him in new ways this Christmas season amongst all the busyness? Would I listen for His tender whispers above the noise? Would I look up to Him instead of the temporal things that surround me? Lastly, would I lead others to the great Light of the World?
I felt that Graham Cooke's encouragement to us at our National Conference in Spokane, Washington related to this thought of looking up to Jesus in all things. He said,
Any situation that you're in He's going to give you your own internal GPS which is a promise to believe Him about. Here's the thing about a problem, every problem comes with a signpost that's attached to it and the signpost says, "promise that way." It's like the Lord is saying don't look at that, when you can look at this. Don't look at that, turn your head to the right and you'll see a promise. You'll see a provision. You'll see a possibility.
I love that the star was like a signpost to the Magi and to me! Look up at Jesus, your Promise, your Provision, and your Possibility. Remember that this Christmas season.
My prayer for each one of us is: May we look up to Him. May we behold Him. May we Worship Him. Let the joy and light of Christmas capture your heart this season and flow out of you to others.